The best chiropractic clinics provide alternative medical treatments and therapies that do not involve invasive procedures or potentially addictive prescription drugs. Many injuries benefit from a combination of joint manipulation, massage therapy, and electrical stimulation that accelerates the natural healing process. At Back to Health Wellness Center in Sarasota, FL, we excel in providing effective electrical stimulation treatment in combination with other non-invasive therapies to deliver quality healthcare services.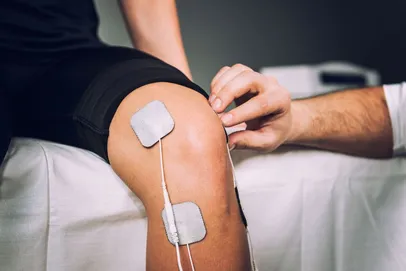 How Electrical Stimulation Works
Electrical stimulation uses strategically placed positive and negative electrodes to create an electrical circuit flowing through a specific part of your body. Our therapist controls the level of electrical stimulation and can adjust it to your personal preference. A typical session lasts about ten minutes, but the length of the procedure may vary from patient to patient.
General Benefits of Electrical Stimulation
Electrical stimulation helps to improve the flow of blood through the afflicted area, stimulating cellular regeneration. The stimulation is similar to what your body experiences when you exercise, but it is in a highly targeted area. The electricity stimulates the nerves, reducing inflammation and swelling within damaged soft tissue. If you have a torn muscle, stretched tendon, or other soft tissue injuries, the therapy will be very beneficial and help you to heal up quickly.
Types of Injuries Treated
Our chiropractor might use electrical stimulation to treat a badly sprained ankle, wrist, or other commonly sprained body parts. Patients who have pacemakers some types of skin disease are not eligible for electrical stimulation treatment, which might wind up causing more harm in such situations. Our chiropractor will discuss your medical history and ensure you are a viable candidate for electrical stimulation therapy.
Chiropractor in Sarasota, FL
If you believe you would benefit from electrical stimulation therapy, the chiropractic professionals at Back to Health Wellness Center are ready to assist you. Our chiropractor will evaluate your musculoskeletal system to identify the root cause of your discomfort before creating a chiropractic care plan to address it. This plan of care will likely include electrical muscle stimulation. For more information on the benefits of electrical stimulation or to schedule an appointment with our chiropractor, call us at (941) 351-2555.