Pregnancy Massage From Back To Health Wellness Center
Being pregnant is the most beautiful time in a woman's life, yet it can also be the most physically challenging time for a woman's body. Athletes get massages, why not pregnant women? At Back to Health Wellness Center in Sarasota, we understand that as a pregnant woman, you are in need of some TLC. Our on-site chiropractor is awaiting your arrival.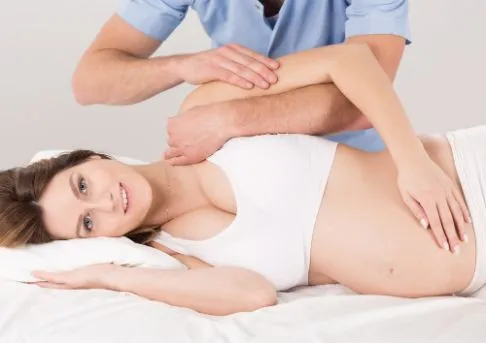 Is Pregnancy Massage Safe?
Logically as a mother-to-be, you are wondering if getting a pregnancy massage is safe for you and your baby. Experts suggest waiting until entering your second trimester to avoid possible dizziness or morning sickness that may occur as a possible side effect.
In addition to this, it is a good idea to ask your doctor if having a massage during pregnancy is right for you. Some conditions that could warrant concern include diabetes, preeclampsia, high blood pressure, fever, abdominal pain or bleeding. If none of these conditions exist, your practitioner should give you the green light.
How Does Pregnancy Massage Differ?
Firstly, you should only go to a massage therapist or chiropractor who specializes in pregnancy massage. Here is one way that a pregnancy massage can be different. A trained chiropractor will have a special cushioning system that will allow the pregnant women to lie comfortably on their belly, or on their side, by using cushions and pillows.
Deep tissue work on the legs, for example, isn't typically part of the practice. This is because deep massage work can dislodge deep blood clots, which can become a risky situation.
Benefits of Massage Therapy During Pregnancy
Here are some of the benefits of pregnancy massage according to the American Pregnancy Association. Having a massage during pregnancy works to decrease symptoms of depression and reduces anxiety. Physically, massage during pregnancy relieves muscle aches and joint pain. Pregnancy massage even has the ability to improve labor outcomes and the health of newborns.
Studies have shown that women who received bi-weekly massages for 5 weeks had increased levels of serotonin, and lowered stress hormones. As a result of this, these women experienced fewer complications during birth, as well as fewer instances of low birth weight and other newborn complications.
Another bonus of receiving massage therapy during pregnancy is a reduction of swelling of the joints during pregnancy, also known as edema. Nerve pain, which is also commonly experienced during late pregnancy is reduced or relieved through massage therapy.
Call Back To Health Wellness Center in Sarasota Today!
At Back to Health Wellness Center in Sarasota, we are in touch with the needs of pregnant women. Our intuitive staff is here to bring relaxation and relief to the areas of your body that need it the most. You and your baby deserve a pregnancy massage. Please contact us today! We are awaiting the opportunity to serve you.