Chiropractic Treatments for Plantar Fasciitis In Sarasota, FL
Plantar Fasciitis is an inflammation of the thick skin on the bottom of the foot from the heel to the toes. The main symptom is pain in the bottom of the foot in the heel or center when walking or moving. Our chiropractor at Back to Health Wellness Center in Sarasota, FL will examine your feet and sometimes perform imaging tests to rule out other conditions. We will often recommend chiropractic care, massage, physical therapy, and exercise to manage plantar fasciitis pain relief. Our treatment and exercises will be custom designed for each patient.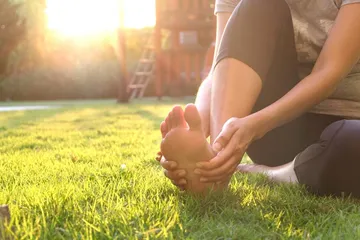 Chiropractic Treatment for Plantar Fasciitis
We find plantar fasciitis more common in runners and those that do not wear supportive shoes. Those that are overweight often develop the condition. Those with jobs where employees are always on their feet often get this problem too. Chiropractic adjustments can help relieve reduce the pain on the ligaments in your feet. Stress on ligament leads to tears and this treatment will reduce inflammation and secondary injuries. Our chiropractor may perform manipulations that help the alignment of the feet, legs, and spine. These treatments are often combined with other therapies for the most effective treatments.
Often the chiropractor will suggest comfortable shoe that promote good foot health or inserts. Chiropractic care can improve posture, balance the weight between the two feet and improve the level of physical activity that you do daily.
Physical therapy may be used to improve movement and mobility. The chiropractor may design corrective exercises to perform at the office and home to help manage the plantar fasciitis. These exercises will improve the range of motion in your feet and manage pain. They mobilize joints to increase walking without the pain. Sometimes we use heat or ice therapy to manage pain associated with the treatments. Physical therapy heals many symptoms associated. with the condition.
Massage is another treatment we may recommend for plantar fasciitis. Massage will reduce inflammation and relieve stress. It can reduce spasms and pain in your feet. This therapy helps with movement and heals scar tissue. We may use deep tissue massage to reach ligaments and nerves that are hard to get at. This type of massage is used to treat plantar fasciitis because it relieves pain and increases blood flow. This treatment along with the others helps to manage plantar fasciitis.
Contact Us For An Appointment About Plantar Fasciitis
When you come in for an appointment, we will take your medical history and give you a physical exam and test your reflexes. We might take an X-ray or imaging test to rule out other conditions. When we make a diagnosis, we will design a custom program for you that helps you manage pain relief and correct the condition. Call us at Back to Health Wellness Center in Sarasota, FL to make an appointment at (941) 351-2555 or filling out the form.