Finding natural ways to treat pain and other problems is important, especially if it reduces the amount of medication you take in your lifetime. If you're looking to relieve some of your pain without having to take pain medication, laser therapy from a chiropractor may be the ticket.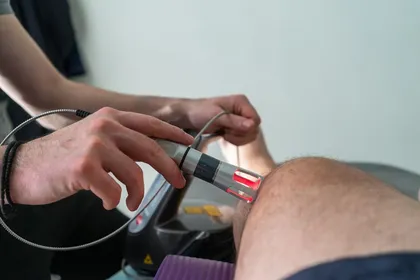 What Is Laser Therapy?
Before you consider laser therapy as a pain treatment method, it's important to understand what it is and how it actually works. Laser therapy works with a power source and a laser applicator. The laser is projected onto the skin where it is then absorbed by your body's cells. When these cells absorb the infrared light, they increase the production of cellular energy in your body. This makes it easier for cells to do their jobs, which includes things like reducing inflammation and repairing damaged cells. There are different attachments that are designed to focus on different parts of the body, as well.
What Can Laser Therapy Treat?
Now that you understand the basics of laser therapy, you may be wondering what it can actually treat. In general, laser therapy is a pain treatment option. However, laser therapy is able to treat pain because of the underlying problems it treats, which also makes it effective for treating other problems.
The three big benefits of laser therapy are that it increases cellular healing, reduces inflammation, and increases circulation. The result is that your cells are able to do their jobs much better and your body is able to heal more quickly. If you're dealing with constant pain from straining your back or neck or a recent injury, laser therapy can help relieve that pain.
Important Notes about Laser Therapy
While laser therapy is great for some people, there are some important things to understand to get the most out of your treatment. Firstly, some pain may be better treated with physical rehabilitation or spinal decompression. The best way to determine this is to talk to your chiropractor about what they would recommend.
You might also consider combining laser therapy with massage therapy. Massage can help relax your body and relieve pain, so it's perfect when combined with another pain-relieving measure like laser therapy. Both methods are safe and effective without medication.
Make an Appointment
If you're sick of dealing with pain, the best thing you can do for yourself is visit our Sarasota chiropractor. Whether you opt for spinal decompression, laser therapy, or massage therapy, you can get great pain relief without reaching for pills. To find out more or schedule an appointment today, call Back to Health Wellness Center in Sarasota.