Herniated Disc Treatment from Your Chiropractor in Sarasota, FL
At Back to Health Wellness Center, we know the best way to treat back pain is to tackle the source of the symptom. If the source of your back pain is herniated or bulging discs, you need a treatment that actually returns your discs to their natural position and eliminates the painful pressure. Our Sarasota chiropractic center is here for your treatment needs.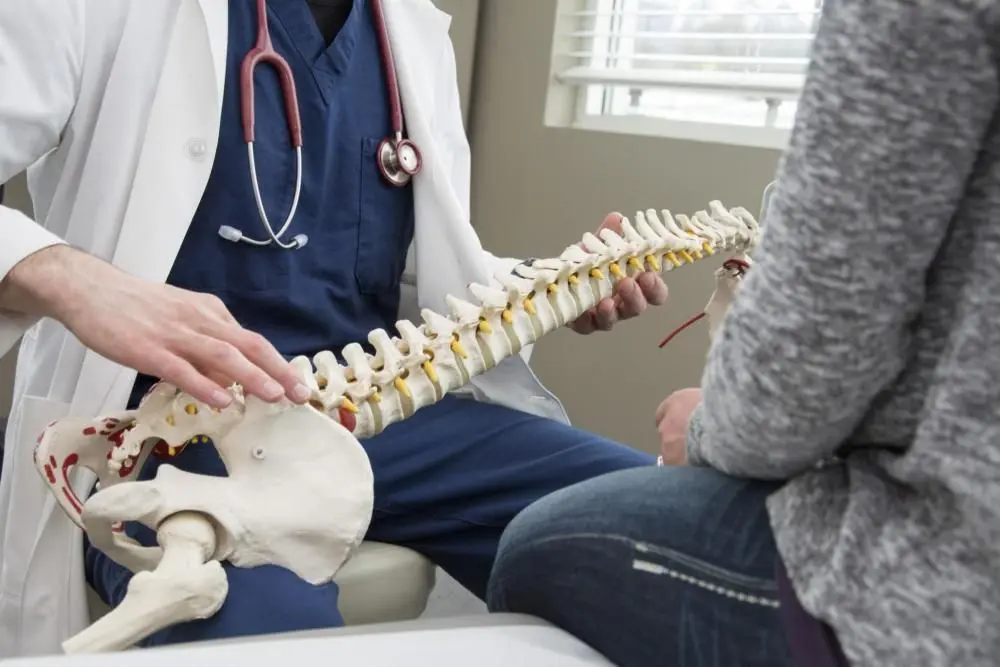 Common Symptoms of Herniated Discs
Not sure if you have a herniated disc? While this spinal injury is very common, it's also very different from one patient to the next. You may not realize your back pain is actually caused by a pinched nerve until you see a chiropractor. You may even have a herniated disc that doesn't cause any pain at all! However, some telltale symptoms are a good sign you should make that appointment.
If you have any of the following herniated disc symptoms, consider seeking chiropractic care in Sarasota:
Dull, throbbing lower back pain
Back pain that gets worse when you laugh, sneeze, or sit for too long
Leg pain that gets worse when you bend at the waist or lean forward in a chair
Tingling, "pins and needles" sensation in one leg or foot
Intense pain in the buttocks, thigh, or calf
These symptoms occur when one or more spinal discs start to bulge out of their proper position. This releases spinal fluids and tissues that are usually contained within the spinal column, which in turn put pressure (or actually pinch) nearby nerves that control sensation in your lower body.
Benefits of Chiropractic Care for Herniated Discs
Why see a chiropractor for your herniated disc treatment? Well, we actually work to correct the problem with all-natural methods. Rather than putting off the healing process with pharmaceuticals or exposing you to invasive treatments and complication risks, we manipulate and stimulate your spine with hands-on treatment techniques. These techniques are designed to push the disc back into place while treating the immediate inflammation that is preventing you from healing properly.
Our Chiropractic Treatments for Herniated Discs in Sarasota
Your chiropractor in Sarasota, FL, is committed to all-natural, holistic treatment techniques that truly relieve the source of your back pain. If you have a bulging or herniated disc pinching a nerve in your spine, you need a treatment plan that puts the disc back into place and relieves pressure on your sensitive nerves and tissue. Our Sarasota chiropractor, Robert Kuskin, helps patients manage or eliminate their back pain by reversing herniated discs and treating inflammation.
Our chiropractic herniated disc treatments in Sarasota are customized for every patient. Your treatment plan will be a combination of corrective care and rehabilitation because we want to alleviate your pain while addressing underlying symptoms and side effects. Depending on the
Manual chiropractic adjustments – Your chiropractor may manually manipulate your spine to restore its natural alignment
Traction table spinal adjustments – Some of our techniques include the use of a flexion-distraction table, which gently stretches and flexes the spine to isolate and reposition a slipped or herniated disc
Therapeutic exercises – We may recommend at-home exercises to restore strength and reduce inflammation in your spine after treatment
Schedule an Appointment with Our Sarasota Chiropractor
Do you have pain from a pinched nerve in your spine? You may have a bulging or herniated disc that is putting pressure on the most sensitive parts of your spine. Fortunately, your chiropractor in Sarasota is here to help. Call (941) 351-2555 to schedule an examination at Back to Health Wellness Center today.