Physical Therapy at Your Sarasota Chiropractor
Facing an injury or a health condition causes concerns for your long-term well-being. When you visit the Back to Health Wellness Center to address a concern or injury, we may recommend physical therapy. By understanding the process, you can feel comfortable when starting a treatment plan.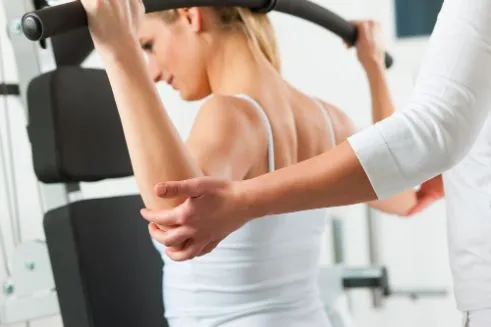 What to Expect During Physical Therapy
Physical therapy refers to a type of treatment used to improve your mobility. At the Back to Health Wellness Center, we offer physical therapy to help with certain injuries or complications that limit your mobility. During the initial visit, you can expect several questions regarding your health, injuries and the current situation. A chiropractor may evaluate your movements and we use different tools to assess your current abilities.
After the initial examination and assessment, we develop a treatment plan for your goals. We may use a variety of different tools to help with your long-term well-being.
Ways Physical Therapists Assess Your Condition
Physical therapists use a variety of information to assess your condition. During the initial examination, we may test the effected area for strength, flexibility, mobility and pain. We also evaluate your balance and range of motion when it applies to your situation and injury. We may ask about the level of pain you experience and any further symptoms.
Certain symptoms, like numbness or tingling. may indicate problems with the nerves from an injury. Depending on the location of the sensation, we may provide further evaluations to clarify the situation. The specific steps we take to evaluate and assess your situation depend on the injuries; however, we usually start with clarifying your range of motion, strength, and flexibility. We also ask about any pain or other sensations you experience.
Types of Physical Therapy Treatments
The types of treatments used in physical therapy focus on improving your mobility, strength, and flexibility. By focusing on your range of motion and addressing physical pain, we encourage natural healing and help improve your quality of life while you heal.
Types of treatments used in physical therapy include:
Exercises to strengthen your muscles and improve your range of motion
Ultrasound therapy, which uses sound waves to stimulate an area of your body
Electrical stimulation, which reduces pain around the injured area
Traction for back and neck pain relief
Joint mobilization to increase your mobility and reduce pain
Heat and ice therapy, which helps with swelling and similar complications
Massage therapy to reduce pain or tension in the soft tissues
Laser therapy, which uses a cold laser to help with pain relief
Chiropractic care, which improves the function of your spine and reduces pain in your back
The treatments we recommend for long-term health and well-being depend on your injuries and situation. We may recommend different treatments after evaluating your needs.
A chiropractor in Sarasota, FL uses a variety of tools for physical therapy. We may use tools for traction, an ultrasound machine, infrared lasers and chiropractic tools. We also use weights and exercise tools to help with your recovery and healing processes.
Working with a physical therapist helps improve your mobility and health. To learn more about the treatments available in our facility or to set up an appointment with a chiropractor in our clinic, call (941) 351-2555 today.